Serb houses on fire in Kosovo under KLA-FOR protection
Less and Less Serbs Remain in Kosovo
After most of the 850,000 ethnic Albanians displaced outside Kosovo during the NATO bombing campaign have returned home, we with the assistance of our allied Kosovo Liberation Army forced out more than 350,000 non-Albanians, killing over 1,100 of them, burning down their homes. Now their death toll is 30 times smaller because their number in the province decreased 30 times. Soon when we finish with all 10,000 remaining non-Albanians our and KLA's (alleged KPC;-) mission will end. Our goal, the Greater Albania, will be closer to reality.



Mr. Hashim Thaci showing closeness of our peacekeeping forces
Our Honorable Assistant and His
Great Merits
Commander of the Kosovo Liberation Army Mr. Hashim Thaci is a man to whom we owe very much. His Army provoked Serb police retaliation and he wisely used ethnic Albanian local civilians as human shield to get political support and justify NATO's military intervention against Serbia. KLA has prepared the forced evacuation of Albanians before the NATO bombing, staging the "humanitarian catastrophe" for the Western media. Afterwards Thaci's KLA served as NATO ground troops during the Kosovo war, and after the occupation they continue attacking non-Albanians, expelling them fast and in big number out of the province. In the same time about 300,000 citizens of Albania were allowed to enter Kosovo, taking homes of those expelled.
Now in the time of Kosovo peace Mr. Thaci, for his numerous merits, is allowed with his KLA colleagues to organize the drug trafficking, sex trade, car and weapon smuggling in Kosovo, in which he also achieves respectable results.



Old Serb who didn't want to obey to KLA peacekeepers and leave his home in Kosovo
Highlights of the KLA-FOR Peacekeeping Mission
The principal targets of our KLA allies are Serbs and Montenegrins, but they do not spare either the Romanies, ethnic Turks, Muslims and other ethnic communities in Kosovo, wanting it to be pure ethnic Albanian territory. We will do our best giving them hand to carry out that task.



A mediaval Serbian Christian church before and after demolishing by KLA
More Demolished Orthodox Christian Churches in Kosovo
Hundreds of ethnic Albanian children have now more room to play in Kosovo without running into Serbian Christian churches and monasteries. And not just that. Our joint NAZI-led Kosovo peacekeeping forces are realizing the strategy of annihilation once forever of all traces of the Serb and Christian culture in Kosovo. We are usually destroying Serbian churches using miners with military training and their actions stay under veil of our conspiracy.



20 June 2000
| | | |
| --- | --- | --- |
| | 100 provoked Incidents with non-Albanians During the Past 24 Hours | |

Previous Press Updates



6 June 2000
Succesful Hand Grenade Attack on Serbs in Gracanica



23 May 2000
Our Dear Mr. Ramush Haradinaj injured during Incident at Russian Checkpoint



08 May 2000
COMKFOR Press Conference Statement



02 May 2000
COMKFOR on the recent Incident in Mitrovica (still not clean of Serbs)




Slide Show:
The Beauty of Kosovo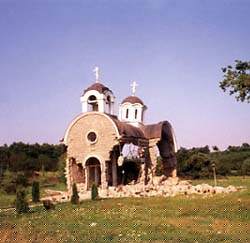 | | |
| --- | --- |
| The KLA-FOR Chronicle Team just published the 5th Edition for 2000. | |

| | |
| --- | --- |
| Current Issue | |


KOSOVO ONE YEAR ON
Achievement and Challenge of More Crime

Lord Robberson of Pork Alien, Secretary General of NAZI



Special Collectors' Item: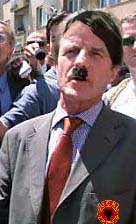 The much respected
UN-NIX Kosovo
administrator Lord
von Kochonnerie