A less subtle way of terrorizing population in Vukovar in 1991 were fierce night shooting at Serbian houses and blowing up of cafes and restaurants owned by Serbs or those that were their favorite gathering places, because inter-ethnic polarization in the city on the eve of war was so great that Croats and Serbs, as a rule, did not go to the same restaurants. Shooting at Serb houses, as a way of pressure on their owners to leave the city, was first recorded in 1990, when members of the Croatian Democratic Union party militia got the first larger supplies of arms, ammunition and explosives. However, these sporadic incidents became a regular occurrence a few months later, when Serb houses were fired at even during the day.
The list of blown up Serbian business facilities, above all restaurants, is somewhat shorter and as an example we will mention that members of the Croatian armed units, among other things, have blown up the following cafes: Krajisnik (15 April 1991), Sarajka (3 May 1991),Tufo (3 May 1991), Brdo (6 May 1991), Mali raj (28 June 1991),Popaj (2 July 1991), Tocak (21 July 1991), Cokot bar (24 July 1991) and Sid (30 July 1991) and Miki Stojkovic's dry cleaning shop and house (3 July 1991).
While Serbs spent evenings and nights in their darkened houses which could become a shooting target any time, only Croats and their armed units could move about the town, usually in vehicles without license plates. This is why very few Serbs could witness of night arrests, taking away and liquidation's of their kinsmen. After 2 May 1991, when they separated Vukovar by numerous barricades and checkpoints from predominantly Serb settlements, members of regular and reserve police forces and National Guard Corps of the Republic of Croatia, as well as some twenty bodyguards of Tomislav Mercep started to terrorize Serb population in the city.
Frightened Serb population fled to the Republic of Serbia where, according to the report of the Republican Statistical Office in Belgrade, made on 25 August 1992 upon the request of SCIC, 13,734 Serbs from Vukovar out of the total of 17,993 Serbs who lived in the city according to 1981 census found refuge. Almost all of them escaped before 1 August 1991.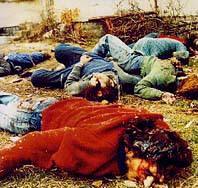 In Vukovar, November 1991, civilians of Serbian origin were dragged out of cellars and shelters, after which they were killed in front of their homes. The folloving people were killed at Nikola Demonja Street No. 74: Radoslav Pavic, Zoran Pavlovic, Zorica Pavlovic, Nada Pavlovic, Milojka Pavlovic, Velimir Trajkovic.