SIX YOUNG CIVILIANS MASSACRED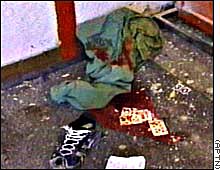 Two masked Albanian terrorist sprayed a bar with bullets in the province of Kosovo on Monday evening Dec. 14 1998, killing six young people and wounding a number of others. The incident, in which the terrorists used automatic weapons, occurred in the "Panda" cafe bar in the province's town of Pec at about 8 p.m. local time. The victims were Ivan Obradovic (aged 14), Dragan Trifunovic ( 17), Zoran Stanojevic (18), Svetislav Ristic (17), Ivan Radevic (25) and Vule Gvozdenovic (16), all Serbs from Pec.
65-YEAR-OLD SERB SHOT DEAD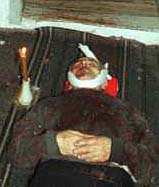 A 65-year-old Serb, Milovan Radojevic, from the village of Obranca on the Pristina-Podujevo road, Kosovo, was shot dead in front of his house Saturday Dec. 26 1998 morning at 9 a.m. His wife said the KLA (ethnic Albanian Kosovo Liberation Army) shot him from their courtyard. Theirs was the only Serb house in the village of Obranca.