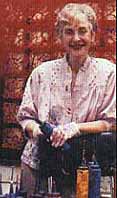 Connecting: the Art of Beth Ames Swartz, Mary Carroll Nelson, Northland Press, Flagstaff, 1984, book.
Using ice, fire, mixed media, and earth, U.S. artist Swartz said, "My art is political in the sense that it is dedicated to the healing and balancing of the earth. I am against those things which threaten to destroy humanity, socially or physically."
Conversations Before the End of Time, Suzi Gablik, Thames and Hudson, London, 1995, book.
Gablik, an art critic, questions the purpose of art in these times. The book's dialogue with 19 artists, writers, and philosophers explores a transformation from passive, vision-centered concepts to one where art can "build community through empathic social interaction".
Morris Graves: Vision of the Inner Eye, Ray Kass, George Braziller, Inc., New York, 1983, book.
U.S. Painter who explored spirituality, mystical beliefs, and transcendental consciousness.
Web Projects, www.diacenter.org, website.
Extraordinary artists' projects that might not otherwise be supported by more conventional institutions represent direct and unmediated experiences between the audience and the artwork by artists who explore the aesthetic and conceptual potentials of the web. Click on 'artists' web projects' to look at Jeanne Dunning, Shimabuku, and Susan Hiller's works.
A comprehensive website by Stephen Wilson, professor of Conceptual/Information Arts at San Francisco State University. Site surveys international artists working at the frontiers of scientific inquiry and emerging technologies. Its goal is to describe this art, explore its theoretical rationales, and alert readers to possible future directions. It reviews cutting edge techno-scientific research and is helpful for artists, art historians, electronic media designers, technologists, scientists, researchers, and more general audiences interested in the future of research that will have significant impact on the culture.
http://userwww.sfsu.edu/~infoarts/links/
artsciencelecture/local.emerging.artlinks.f/wilson.artlinks2.htm