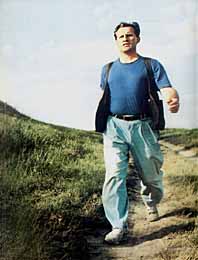 Poet and performance artist Miroslav Mandic (b. 1949) has realized a huge and impressive ten year art project, "The Rose of Wandering - Ten years of walking across Europe 1991-2001". Mandic took the first step of "The Rose of Wandering" from William Blake's grave in London on September 9th 1991. Since then, he has walked 20 kilometers each day which, in ten years, adds up to about 60,000 kilometers. By doing that, as he states, he wanted to affirm accomplishment and the supernatural, to affirm wandering as a method through which a path to poetry and new sources of beauty could open. By walking in different parts of Europe he was "drawing" a "blue rose of wandering", a spiritual sculpture, which is invisible but has influence on people. As he explained, with his everyday sacrifice he was building a "Monument to the Anonymous Forces of Love".

Mandic's three basic symbols are the road, the rose, and wandering. He defines the road as follows: "The road is the largest man-made structure in this world. Man's greatest achievement. Unlike houses, which eventually fall into ruins, roads last forever. I have had some little experience of its tolerance and wisdom. In ten years, I think I shall become an excellent student of its."
To Mandic, the rose is: "A world of non-violence. Non-violence takes the greatest courage of all, and that is why the rose is a hero. I think of the rose as a future teacher of harmony. The rose is food for the soul."
He says the following of wandering: "Wandering is inevitable, that is why I accept it. Wandering is the best way of living and reaching certainty. The wanderings of "The Rose of Wandering" are dedicated to all those who have been and still are searching, all those who search and seek for others.
I shall wander - because "The Rose of Wandering" is my admiration of beauty on European ground and it is also the incorporating of that beauty into Earth's cosmic future - because "The Rose of Wandering" is for me a mythological journey towards a new form. Ten springs, ten summers, ten autumns and ten winters - because "The Rose of Wandering" is a prayer. A prayer to the beauty of the rose, the wisdom of wandering and the sensuality of wandering."