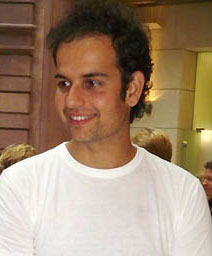 This year, the Guggenheim Museum showcased "Tino Sehgal," a "performative installation" that required visitor participation. As the 34-year-old artist said, "When you enter my work, you are also constructing it."
Sehgal, who was born in London but lives and works in Berlin, aims to elicit two-way conversations through what are called "constructed situations."
Why the artist eschews conventional art objects: A student of economics and former dancer and choreographer, Sehgal maintains that the developed world has too much stuff. His favored means of creating art does not diminish Earth's dwindling resources or contribute to the excess of consumer goods. His art exists only transiently and leaves no physical trace. Sehgal's art lives during the experience and afterward persists in memory and legend. He permits no photographic, video, or audio record and no catalog or wall labels.
Instead of transforming material like canvas or a chunk of marble into an art object, Sehgal's medium is the human body, mind, and energy. His goal is to transform participants' thoughts and values. It's the Socratic method made visible, as much linguistic and dramatic as it is visual art.
The Guggenheim show had two parts: one was a visual tableau and the other required direct participation. The former, "Kiss," showed a young man and woman sprawled on the floor of the rotunda, enacting in slow motion scenes from works of art that involve a kissing couple.
The participatory part, called "This Progress," wound up the ramps of the Guggenheim's spiral. "It's the perfect place" for this work, Sehgal said. "Every museum promotes the Western idea of progress, and this one epitomizes it" in its spiral form ascending to an oculus of pure light. It also suggests that progress, Sehgal says, is "nonlinear."
He hopes to catalyze fresh thinking about the concept. "In the last 200 or 300 years, the Western idea of progress," he says, "is to transform the earth through human labor into material things, which we consume and derive income from and which make us happy." He denies that "having the next gadget" increases happiness and proposes an alternative of "higher level" satisfaction found in interpersonal relationships.
"This Progress" consisted of serial conversations between each visitor and four interpreters ranging in age from schoolchildren to senior citizens. On entering the bottom ramp, a child says, "This is a work by Tino Sehgal. May I ask you a question? What is progress?" You stroll up the ramps discoursing on progress, the child then passes you off to the next interpreter, a teen who continues the conversation, asking more questions and offering different viewpoints. You stroll and chat some more, always ascending the ramp. Your next interlocutor is an adult who offers observations - personal and philosophical - which may be vaguely or explicitly relevant to the topic. Next, you meet a white-haired man or woman who further delves into the subject. The conversations ranged from jabbering and pontificating to thoughtful analysis and engagement. As you reach the top of the building, the conversation ends abruptly.
Sehgal says. "You keep thinking as you go down. Afterwards you can be in a contemplative mode," continuing the dialogue as an internal monologue.

Excerpt from www.CSMonitor.com