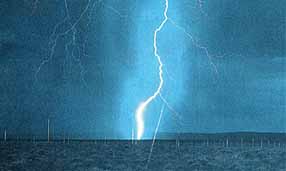 Art as object:

The Lightning Field was created by sculptor Walter De Maria, and completed in 1977. It is situated in a remote desert area in the U.S. in New Mexico. The Lightning Field is comprised of 400 polished stainless steel poles installed in a grid array; 16 poles wide by 25 poles long, which measures one mile by one kilometer. The poles are two inches in diameter and average 20 feet by 7 1/2 inches in height. They are spaced 220 feet apart and have solid pointed tips which create a horizontal plane.
The intention is for viewers to experience The Lightning Field alone or with up to five other people over a 24 hour period during the months of May through October, the time of year when lightning strikes are most likely to occur.
Art as perception:
I had been anticipating a visit to The Lightning Field since 1982. My medium was drawing at the time, so I imagined the steel poles would attract lightning strikes, which would then appear as line drawings in the sky. The line drawings in the sky would be the art.
But my expectation turned out to be incorrect. I no longer believe that the main aspect of the work is the ephemeral lightning strike on one or more of the poles. I also do not think that the piece is primarily about the precise distribution and alignments of the poles in the landscape, or the accompanying numbers and facts found in writings about the work.
The art is about the viewer's perception, their anticipation, their being present to the work, open and patient. I spent 24 hours hoping to experience lightning strike a pole: willing that it would happen, wishing that it would occur.
I realized that the art was just simply, that: the created desire.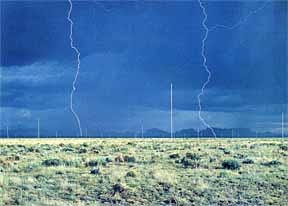 For more info go to the website:
[Walter De Maria (October 1, 1935 Albany, California, USA) studied history and art at the University of California, Berkeley. In 1960 he moved to New York City, where he continues to live and work. De Maria has had numerous international shows, at venues including the Kunsthaus Zürich (1999), the Museum für Moderne Kunst, Frankfurt (1991), the Staatsgalerie Stuttgart (1987), and the Museum Boymans-van Beuningen, Rotterdam (1984). He was a leader in the Earth Works movement.]

[Arleen Hartman (January 17, 1954, Ohio, USA) is a professional artist whose primary focus is researching and practicing creativity through an exploration of non-locality, manifestation, and morphic fields. Her earlier, object-related artwork has been extensively reviewed, collected, and exhibited nationally. She has taught Studio Art, Art History, Humanities, Urban Studies, Women's Studies, Black Studies, and Literature, at several universities for 22 years. She has lectured widely and led workshops on many art topics. Hartman has been a feminist activist, working for people's rights, since she was sixteen.]