! HTML coding by Jim Felter, FIVE/CINQ Unlimited, West Vancouver, BC, CANADA> <! E-mail - jfelter@direct.ca>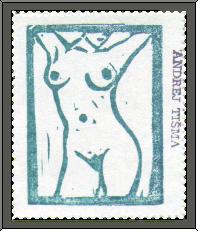 BLUE NUDE
by Andrej Tišma, First Issued - 1986
Single rubberstamped perforated artistamp 5.5 x 4.5cm.
[from a full sheet (21.1 x 29.9cm) of 20 (5 rows of 4), signed and dated 1990]
Artist, art critic and curator, Andrej Tišma
has been a mail-artist and networker since the early '70's.
He is the founder of The Institute for the Spreading of Love (1991)
and the Embargo Art Campaign (1992).
He lives in Novi Sad, Yugoslavia.
Permanent Collection
Gift of the Artist
---


Museum Shop . . .


Gallery Foyer . . .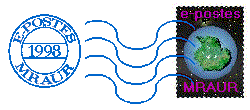 ---
Copyright ©1998 Jas W Felter, all rights reserved.